Mr. Beast and Beast Philanthropy Unite for a Brighter Tomorrow with Better Earth and GivePower in Colombia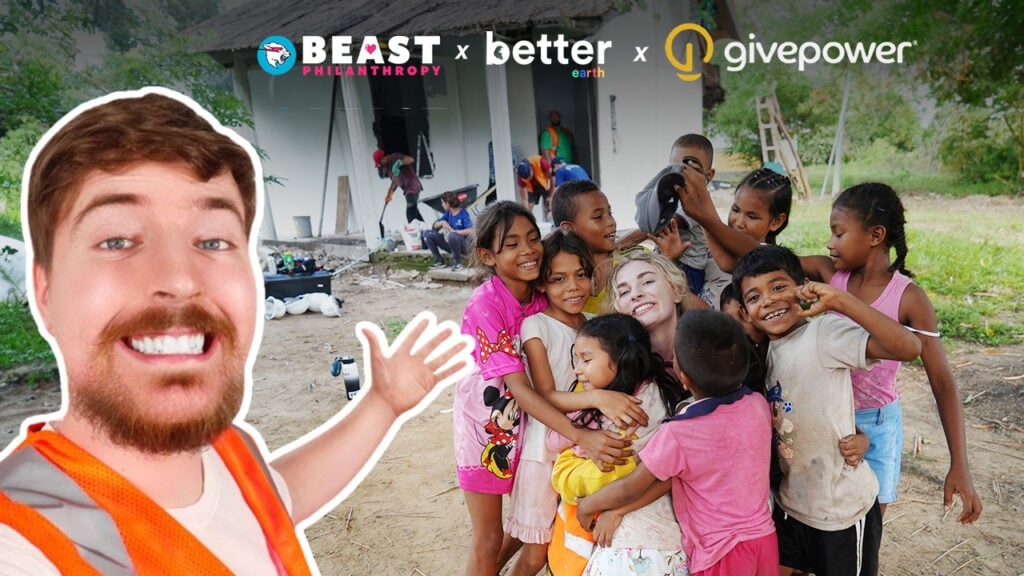 At Better Earth, our tireless dedication lies in meticulously stitching the fabric of our planet with threads of sustainability, one impactful day at a time. We are illuminating the road to the future by delivering an essential life commodity – energy – sustainably, thereby establishing a perpetual cycle of life-cherishing care for our planet.
Better Partnerships
This spring, a glittering opportunity cascaded into our lives, harmonizing perfectly with our noble cause. Uniting with our philanthropic partner, the vibrant GivePower Foundation – a lighthouse of positivity steadfastly committed to generating access to pure, drinkable water via clean energy in parched global areas – we embarked on an awe-inspiring expedition to Bucaramanga, Colombia. But, our unity was destined to grow stronger. We had an extraordinary addition to our coalition – Beast Philanthropy, the ingenious brainchild of Jimmy Donaldson, popularly known as MrBeast, a top-ranking creator on YouTube known for transforming the power of social media into a formidable weapon against hunger, homelessness, and unemployment.
Together, our organizations became the harmonious notes of a melody of transformative change, which resonated through the verdant mountains of Colombia, touching hearts and inspiring minds. From the instant our team's feet imprinted on Colombian earth, a journey of profound discovery and growth began to unfurl, painting a vibrant canvas of deeply moving experiences that put into perspective the privileges we often overlook.
Giving the Gift of Clean Power
Our ties to the digital world may have weakened during this journey, but our bonds to humanity blossomed exponentially. This digital detox allowed us to immerse ourselves fully in our purpose, nurturing a deeper understanding of the difference we were making. The chaos of our routine lives morphed into a tranquil serenity, magnifying the positive impact of our expedition, and reaffirming our belief that through collaboration, love, and partnerships, there are no horizons we cannot reach.
A Special Experience for the Better Earth Team
Joanna Falcone underlined the universality of human connection, noting, "Despite the language barrier there was still interaction, and nonverbal communication took over. It is remarkable how much music, dance, and food can bring everyone together despite not speaking the same language."Jorrel Patterson offered a powerful reflection on our ability to effect change: "The ability for us to help communities is a privilege we all should be actively attempting to do."
Natalie Knudson gave a comprehensive overview of her experience and its personal impact: "The trek overall taught me how happy people can be with so little. I think we all get caught up in reaching for the next big thing, the next dollar or the next cool gadget and we forget to be happy with what we have. I saw people living a very simple, very happy life and I left realizing that I need to slow down and be more present and grateful for the things I have. It also helped me realize I need to take time to be happy and satisfied with where I am at in life. Not to settle or be ok with less but to really take time and appreciate what I have and where I am at in life. I also walked away with the realization that many people (especially women) still don't have a choice in their own lives, they just live to survive. I want to make a difference and spend my life doing things that matter, specifically to empower women. This trek reignited my passion to be a part of experiences that advocate and empower women across the world."
Zain Jan, CEO of Better Earth, found himself enveloped in a tapestry of profound experiences: "The journey to Colombia was far more than a mission; it was a celebration of the human spirit. As we worked with our hands under the sky, our hearts found a deeper connection to humanity. Every solar panel we installed, every life we touched, reflected a shared dream – a sustainable, equitable future. Our efforts are a testament to the belief that when love, collaboration, and ambition join hands, no frontier is unreachable."
Creating a Better Earth
Our journey to Colombia with our incredible partners, Mr. Beast, Beast Philanthropy, and GivePower, was an experience that surpassed all expectations. Together, we brought light and hope to a small Colombian village, harnessing the power of solar energy to illuminate their lives. Witnessing the joy and gratitude radiating from the faces of the villagers was a humbling reminder of the profound impact we can make when we come together. Furthermore, we were thrilled to establish a bakery, empowering the women of the community with a sustainable means of income. Being in the presence of such remarkable individuals, whose dedication and generosity know no bounds, was an absolute honor. As we reflect on this unforgettable journey, we are inspired to continue our mission of giving back, and we are immensely grateful for the support of our customers who enable us to make a real difference in the world. Together, we will continue to inspire the world to create a Better Earth.
Get the latest news from
Better Earth in your inbox.