Better Earth Goes on a Journey to Electrify Nepal with GivePower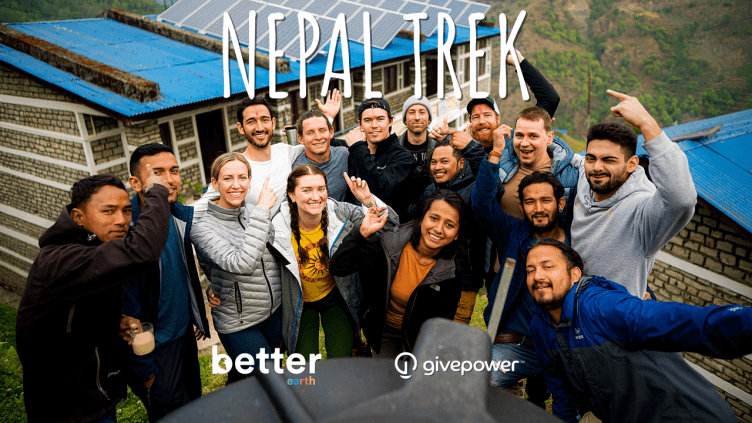 Since its inception, Better Earth's mission has always been to create a bigger impact and influence on making the world a better place to live, by providing sustainable means of procuring an essential resource – energy.
In April 2022, this mission and service were called upon louder than ever. Through a partnership with GivePower, a 501c3 non-profit organization dedicated to electrifying the world with clean energy, and providing more excellent health, economic and educational opportunities to developing regions that need it most, nine (9) members of the Better Earth team, were given an amazing opportunity to experience trekking to one of Nepal's remote villages, Pakhapani, and electrify their community – Shaun Sharabi, Dmitry Lipilin, Bill Sumrow, Maggie Matthews, Dean Sharabi, Nathaniel Johnson, Marshall Tuten, Leila Seppa, and Cameron Grove.
And it became an incredible journey that was truly humbling and life-changing.
Nepal, a landlocked country in South Asia, has a rich and diverse culture deeply steeped in tradition and religion. Its people, the Nepali, is known to be calm, kind, and hospitable. A fact that was not only confirmed, but experienced firsthand by the team when they immersed themselves in one of Nepal's remote villages, Pakhapani.
Team Leader Cameron Grove observed, "Nepal has a very mystical ancient culture. Being there was very eye-opening. The people had a very strong sense of community and family values."
The village, Pakhapani, is a rural municipality in Nepal's Western Region with a population of 2,565 in 533 individual households. Being a remote area, the village's environment remains beautifully preserved, surrounded by mountains and lush greenery, but it does not come without its own challenges.
One of the many struggles that the local residents shared were stories and photos of how a birthing clinic and its nurses had been performing births using light from phone cameras or headlamps, due to the several blackouts that they had been experiencing throughout the day. In the 3 days that the team spent at the village, about 10 blackouts occurred.
Despite the tremendous need, nurses at the clinic had trouble keeping crucial medicines and vaccines for long, as they had no way of keeping them cold with all the power outages.
According to Dmitry Lipilin, a Data Systems Manager, in order to give the clinic a sustainable power supply, the Better Earth team must install 20+ PV modules and a battery off-grid power system. Divided into three groups, one group worked on the wiring, another worked on the grounding, digging trenches and holes to safely place the solar system, and the last group worked on the roof to attach frames, situating them where the panels can receive as much solar light as possible. Towards the end of the installation process, the entire team got on the roof for the final installation of the solar panels.
"This project will provide reliable, clean power to a health outpost and will allow for more comfort and security for the locals and health workers.", said Vice President of Sales, Marshall Tuten.
Maggie Matthews, Permit Manager, shared her favorite part of the trip, "The most memorable experience of the trip was the lighting ceremony we had the last night in the village. The village was celebrating their New Year, and we went down to the festivities where we were given front-row seats to watch the funny dances and skits that they spent hours preparing. We danced and laughed along with them before heading back up to camp to attend the official lighting ceremony of the medical clinic. Their village leaders spoke with tears in their eyes, showing how impactful this work was for them. The long hours the days prior, digging holes and climbing around on the roof, felt like work I could do daily, to experience how joyous they were when the lights turned on, powering the entire clinic with bright light. Their energy was electric and powered us dancing throughout the night."
Procurement Manager Bill Sumrow also thought, "The Nepalese people are special in their welcoming spirit, balance with nature, and general optimism. From the moment we arrived in the country we were greeted with smiles, warmth, and unquestioning friendship. The culture and villages are so old that you can tell there is a real understanding of oneness with the world. Nepalese people understand that humans are truly one and the same as nature, the world, and the energy that binds all things together. All people of the world should visit and learn these basic values."
The entire journey became a real eye-opener for the Better Earth team. After seeing the life-changing impact of their service, the team felt a newfound perspective and definition of success and happiness.
"Better Earth's support will enable us to provide a safe, reliable, and affordable source of clean water for thousands of people who need it. We couldn't be more grateful for their generous commitment," said Michele Magee, GivePower's President.
As for the team, Dimitry said it best, "I always have known that Better Earth is an incredible company with an amazing team! On the trip, I just became even more convinced of what beautiful people are part of this team and what a great thing we are all doing together."
As a company that aims to improve lives on a global scale, more people around the world can expect Better Earth to work with different individuals and institutions to bring clean and sustainable energy to communities in need. As a company, Better Earth is focused and dedicated to using solar power and renewable energy to help advance every nation positively and create a ripple effect on future generations.
Get the latest news from
Better Earth in your inbox.